Concrete and Rebar Inspection
Surveys Conducted Nationwide
Email us at concrete@geomodel.com / 703-777-9788
All concrete and rebar inspecton surveys are conducted or supervised by:
Certified Professional Geologists (PG)
40-Hour OSHA Hazwoper-Trained Professionals
TWIC Certified Professionals
ISNetworld Member Company
---
GeoModel, Inc. can conduct a real-time concrete inspection survey using ground penetrating radar (GPR) to locate rebar, pipes, post tension bars, dowels, and plastic and fiber optic conduits. Our concrete inspection survey can also detect voids within concrete slabs and under concrete slabs.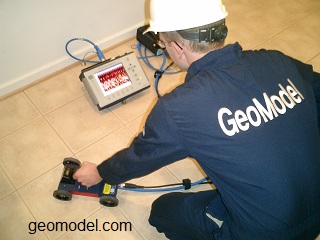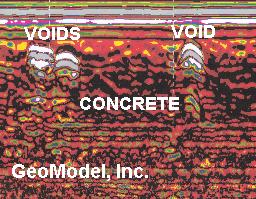 GeoModel uses 1500 MHz and 900 MHz antennas to locate voids, rebar, pipes, or other embedded components during concrete inspection.
Our radar survey professionals can conduct a concrete inspection survey of concrete block walls, concrete floors, concrete slabs, airport runways, tunnels, abutments, dams, and garages. Asphalt roads and surfaces can also be scanned.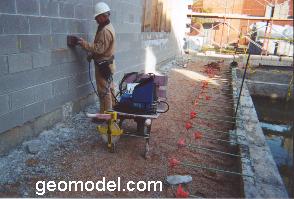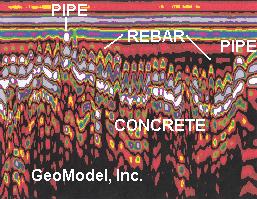 GPR concrete inspection survey of block wall using 1500 MHz antenna (above left) and GPR image showing rebar (above right).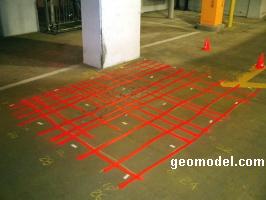 Confirmation of rebar locations (note cut-away in wall (above left) to expose rebar) and location of rebar painted on concrete floor (above right), based on GPR survey conducted by GeoModel, Inc.
Concrete as thick as 12 to 18 inches can be scanned. The condition of concrete slabs can be inspected including relative thickness, deterioration, and structure problems. Our concrete inspector pulls the radar antenna along the concrete surface and simultaneously records the radar data on a computer. The image of the concrete is immediately seen on the computer screen and can be interpreted in real time.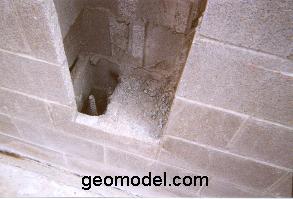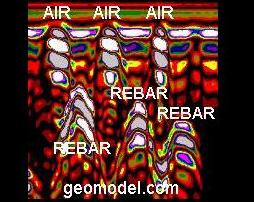 An example of 1500 MHz GPR data showing rebar and air voids in concrete blocks (above)
---
For a ground penetrating radar survey, click on your state below: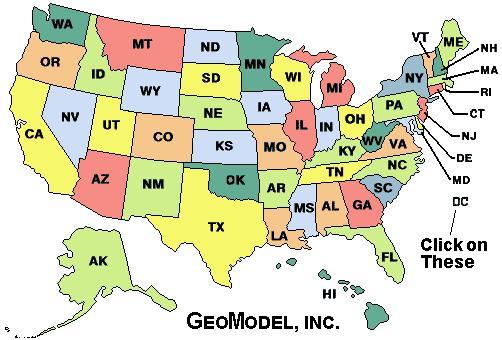 e-mail:

concrete@geomodel.com
---
[Back to Top of page][Back to GPR Applications Page]